Ads on YouTube
"Doing business without advertising is like winking at a girl in the dark. You know what you are doing but nobody else does". Stuart Henderson
In a very short period of time, YouTube has grown immensely, proving that the video is a very popular form of communication. Many companies around the world are aware of that, and they use this channel to promote their brand.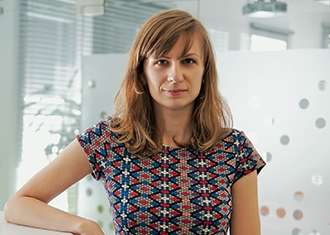 Katarzyna Augustyn-Szurek
Account Manager
Write to me
Video marketing
Currently, videos are attracting more attention than written content. They are visually attractive and easier to comprehend. Nowadays, users live "on the run". They work and consume much quicker, do not have a lot of free time, and it is difficult to interest them in something. That is why video marketing is becoming one of the most effective forms of brand promotion. It helps to build the brand image and recognition, as well as gain trust and credibility in the eyes of recipients. Be up to date – be on YouTube!
You don't have your own video material? Don't worry! We also help in the preparation of advertising films. You can find more information here: video marketing.
Video ads on Google Ads
Ads in the form of videos can be promoted on YouTube in several ways. The Google Ads system (previously Google AdWords) distinguishes 3 formats: TrueView In-Stream ads, TrueView Discovery video ads and bumper ads.
What are their differences?
- TrueView In-Stream ads appear before, during or after the YouTube film. The user has an option to skip the ad after 5 seconds. In this case, the fee is charged when a viewer watches 30 seconds of the video (or after finishing it, if it's shorter than 30 seconds) or when the viewer interacts with your ad in any way.
- TrueView video Discovery ad consist of a thumbnail image from your video. It is displayed when users watch other videos, next to related videos or on the YouTube homepage. Generally, TrueView Discovery ads invite people to watch the video and then refer them to the specific channel or other video. In this case you pay only when someone clicks the ad.
- bumper ads are very short, they last 6 seconds or less. And they are played before, during, or after the video. Viewers do not have the option to skip the ad. This format uses CPM bidding (the fee is charger each time your ad is shown 1000 times).
These forms of advertising re a great solution in campaigns focused on brand awareness and reach. They guarantee great results at relatively low costs.