E-mail marketing
"70% of our decision to buy is based on how we are treated as people and only 30% based on product attributes". John McKean
Newsletters are still one of the most popular, the cheapest and the most effective means of direct communication with customers. However, the current market situation demands from companies more strategic and dedicated actions than the dispatch of simple messages. Lucky for you, we know what to do!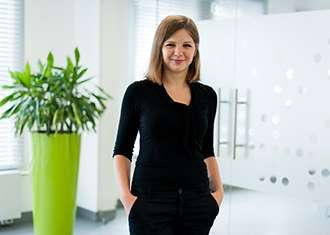 Urszula Korniak
Account Manager
Write to me
We collect e-mail addresses
Nowadays, subscribers are incredibly important to each company. They include not only users who signed up for newsletters but also those who follow our brand on social media. In the age of overcrowded market and dynamic competition, the process of collecting e-mail addresses is time-consuming and very demanding.
Companies often have trouble with creating mailing lists. They do not know how to attract new users, what to offer or what tools should be used. Our agency, thanks to years of experience, is up to date with all the current trends.
We organize competitions which aim is to collect new e-mail addresses, we create contests with special prizes or lotteries. We try to use social media as well as advanced content marketing techniques.
Newsletters - creation and dispatch
The newsletter is one of those tools that put down roots in modern marketing – users see it as a natural way of brand's communication. Yet still, many companies do not use their full potential or make mistakes that discourage subscribers to read messages.
Our agency will prepare professional and engaging content that attention with its attractive form. We will make sure that users will gladly open e-mails and not instinctively delete them.
We will develop effective communication strategies that will help to engage recipients and encourage them to interact. We will help you create dedicated offers and find out what customers want. Remember, the well-prepared newsletter can increase the conversion rate!
Remarketing
Remarketing is a popular way of reminding users about the brand and encouraging them to try offered services. Mechanisms behind this process allow to precisely define a target audience, increasing ad's effectiveness as a result of it.
In the end, we want to reach especially those customers who are more likely to be interested in a particular offer!
In the end, we want to reach especially those customers who are more likely to be interested in a particular offer. The commercial mailing's remarketing allows to communicate with those people who, for instance, visited your website but did not buy anything. It is also a great way to show them personalized offers based on customers' shopping cart. By doing so, we encourage them to visit the store again and increase the chance to finalize shopping.
Users' activity is a valuable source of information about their needs, interests and capabilities. The are many digital marketing strategies available – our specialists will help to select those that will meet your needs.
Communication schemes
Mailing is currently one of the most effective and flexible forms of direct communication with the customer. It is also relatively affordable, which is very important. Although, many people treat mailing as a SPAM, it still highly effective. The secret lies in a right preparation.
The simple mailing to subscribed users might not be enough. In such case, these e-mails will probably end up in a bin.
The mailing process should be properly taken care of. Except preparing interesting graphics and personalized offer, it is very important to develop strategies and e-mail marketing communication schemes. They allow to reach the proper people with an appropriate message, complete conversions as well as build the coherent and credible brand image.