Our competencies
"Choose a job you love, and you will never have to work a day in your life". Confucius
E-marketing agency
Our experienced team includes specialists who passionately carry out more and more projects and select the best solutions. They constantly follow and analyze market's expectations, current trends as well as experiment with new ways of promotion.
People who work at Ideo Force believe also in personal development. By increasing our competencies, we can provide better services and lead your brand to the top!
We support e-commerce
We know how to promote online stores, increase their recognition and boost sales. Based on years of experience with e-commerce, we developed our own work methodology when it comes to online stores and the process of generating sales results for them. By naming it the Expert Sales Increase Program we want to accentuate its unique and technical character.
The Expert Sales Increase Program in online stores is closely based on the Agile philosophy which states: create, measure, learn, draw conclusions, act better and better. That is why we focus on flexibility in working with the client and make sure that our activities are based on data. We work on qualitative indicators such as Customer Acquisition Cost (CAC), Key Performance Indicators (KPI), Customer Lifetime Value (CLV), Return on Investment (ROI), Return on ad Spend (ROAS).
The rules of program state that all digital marketing actions regarding e-commerce are conducted in accordance with the Inbound Marketing ideology. From our experience, we know that holistic approach to advertising, based on data, generates the best results, ROI and increases sales.
What distinguishes our activities is a very strong substantive background – regarding marketing, technological possibilities and running an e-commerce business. The client receives also a huge amount of knowledge because we know that an educated client means quicker results of undertaken activities. Our agency pays special attention to data which are constantly analyzed. Based on them, we make all e-marketing decisions.
Google Marketing Platform
When performing complex e-marketing activities, we use Google Marketing Platform. Thanks to it, our specialists can execute tasks in various channels more effectively. The platform shares a set of integrated advertising and analytical tools which make marketing actions faster, well-thought-out and bring better results.
Google status and specializations
Our agency has achieved a Google Partner status and 5 out of 5 company specializations that confirm our employees' competencies in particular fields.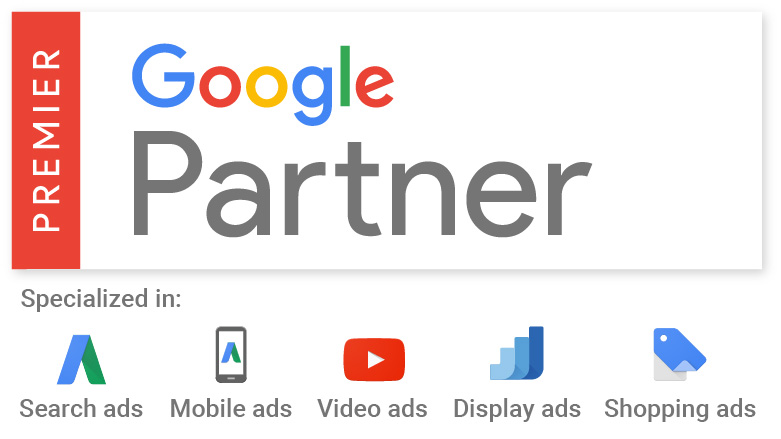 Our certificates
Our certified specialists have the expert knowledge in creating and optimizing mobile websites, managing Google Analytics as well as Google and Bing ad campaigns.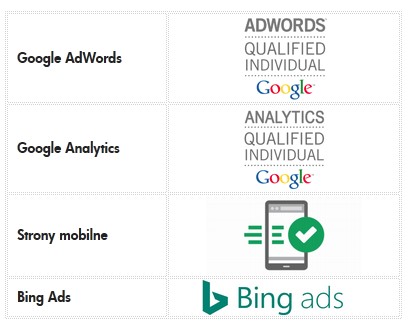 Advanced tools
In our everyday work, we use various tools that help manage digital marketing campaigns, improve conversions and websites' usability.
They include: Google Analytics, Google Ads, Piwik, KissMetrics, Mouseflow, HotJar, PushCrew, Optimizely, SemStorm, MajesticSEO, Searchmetrics, DeepCrawl, Google Tag Manager, TradeWatch, Istats, Google Search Console, Bing Webmaster tools, Ahrefs, Percolate, Brand24, Sotrender, Sentione and AWstats.