Google Ads campaigns
"Doing business without advertising is like winking at a girl in the dark. You know what you are doing but nobody else does". Stuart Henderson
For millions around the world, the Internet is a basic source of information. It gives people opportunity to look for special offers, compare products and leave feedback. Google Ads is a very effective form of promotion – it appears in places where we expect it. Thanks to its elasticity and precision, it can get to a specific target group – in search engines, on Google Display Network websites and by a display of products via Google Merchant Center.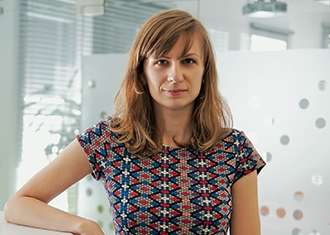 Katarzyna Augustyn-Szurek
Account Manager
Write to me
Sponsored links
Google Ads is currently the most effective advertising system online. Approximately over 25% of all ads that appear on the Internet is published and shared by it. Thanks to sponsored links even less positioned websites can have a chance to be displayed on the first results page – which is a key to obtain traffic.
Google Ads makes it possible to advertise in Google search engine as well as on websites belonging to Google Display Network. Google Ads offer text ads, non-animated and animated image banners, Lightbox ads and responsive ads that visually adapt to the website it is displayed on.
Expert care
As Ideo Force, we offer complex ad campaigns and brand image services. Thanks to scheduled strategies planned beforehand, our certified experts help to: increase sales of your products or services, reach the target group, improve conversion rates and ensure effective use of the budget. We guarantee to monitor the actions, provide regular reports and give access to the admin panel. We will take care of each detail of the campaign!
Do you invest a lot in Google Ads but do not see any results? We will find the issue.
Thanks to optimization, you will decrease costs and increase effectiveness of actions. Successful promotion is our priority!

Native campaigns run by specialists
Do you want to start an advertising campaign on the Polish market? We know it perfectly - we live here! Many years of our presence on the market, cooperation with companies from various industries and carried out analyzes have allowed us to know and understand the behavior of the Polish consumer.
Right localization of ads, especially on foreign markets, needs great targeting – on the level of language, visuals and regional characteristics of customers. Of course – we all live in times of globalization but still – cultural determinants have great importance for business and marketing activities.