Remarketing
"Doing business without advertising is like winking at a girl in the dark. You know what you are doing but nobody else does". Stuart Henderson
The effectiveness of this format is very high. The users know the brand, were interested in the offer, so there is a good chance that they are going to click the ad. The remarketing is a form of reminding them about the brand existence. In this case, they will not forget about its among many competitive offers.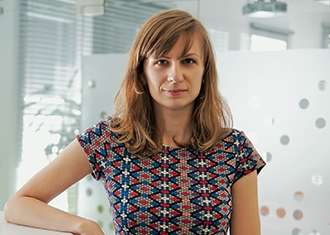 Katarzyna Augustyn-Szurek
Account Manager
Write to me
Remarketing
Remarketing is one of the most effective tools offered by Google Ads (previously Google AdWords). Thanks to it, the communication is targeted at users that already had contact with the brand online – they visited the website or an online store. By using the mechanism of Google Ads (both search network and GDN), the ad is following the users It is displayed in places they are currently visiting.
Dynamic remarketing is a tool that takes things to the next level. The users who visited our website will see the automatic ad that contains products or services they were interested in. The ad can feature an additional message, such as promotion or call to action.
Why Google Ads?
There are many important reasons why Google Ads' tools are effective and popular. Without any doubt they include the comfort and flexibility. No matter how many ads, tools and campaigns we run they are all managed from the same account. The constant access to data and monitoring allows to modify parameters of promotion (targeting, reach, intensity) on regular basis, increasing its effectiveness and optimizing costs.
A team of specialists
We begin each project by getting to know the client, his brand and specifics of the industry. Then we select the right tools that allow to achieve the goals and the best results. Our expertise has been acknowledged by many. We are a Premier Google Partner and Google Rising Stars. Our certified specialists have the expert knowledge in managing GoogleAds campaigns as well as analysing data in Google Analytics.