Google Ads account audit
"Doing business without advertising is like winking at a girl in the dark. You know what you are doing but nobody else does". Stuart Henderson
Whether you own a large business or a local firm, the possibility to directly reach your client is the main force of your business. Online advertising helps to establish contact with potential consumers. Its execution is usually commissioned to external agencies. Do you want to make sure that everything works properly? We will conduct an audit of Google Ads account (previously Google AdWords) that will make everything easy to understand.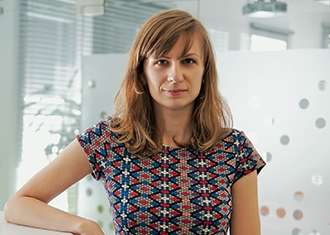 Katarzyna Augustyn-Szurek
Account Manager
Write to me
We test the implementation
The success of each advertising campaign needs to be properly prepared. The path starts with the right configuration of analytics tools and the Google Ads account (previously AdWords). We take care of the campaign's structure and logical names. The coherent structure may have directly impact on effectiveness of performed activities. We test the relevance of selected keywords and their influence on the total costs of the promotion.
We verify ads
Many factors affect the effectiveness of the promotional campaign. One of the most obvious is the shape of the advertisement itself. It is what determines whether the user decides to click it and discover the offer. We verify the structure of text ads, linguistic correctness, the attractiveness of keywords, CTRs, the ad quality results as well as the implementation of extensions and additional elements that might affect its success.
We check whether prepared ads are compatible with the company's branding or whether they correspond to current trends in brand image building. We verify its language, aesthetics and emotional characteristics.
We study results
We pay special attention to the implemented methods for assessing the effectiveness of campaigns. We verify all selected KPIs, for instance, a clickthrough, cost per click (CPC), conversion and bounce rates. We make sure that the conducted advertising activities do not only look well in the final reports, but they bring measurable business results.
When to conduct an audit?
Whether you run a Google advertising campaign on your own or you hired a digital agency, the audit can help to assess the purpose of funds spent on online promotion.
The verification of undertaken activities is especially important in situations where despite funds spent, the brand image and business results are constant or what's even worse – are dropping down. Usually it's also a good practice to make an audit before and after entering new market. Our agency will help you identify the problem and implement appropriate optimization. Their implementation will ensure the effective management of online advertising costs, will help to eliminate unwanted click-throughs, increase the comfort of customers, and as a result of it, gradually build the profits of your company.
When it comes to the optimization, do not worry, we will not leave you alone with it. We provide support in the processes of the implementation of all recommendations and their future verification.