Graphic designs
"The details are not the details. They make the design". Charles Eames
The process of designing visually modern and attractive materials requires a team of specialists that are not only experienced but also familiar with current trends.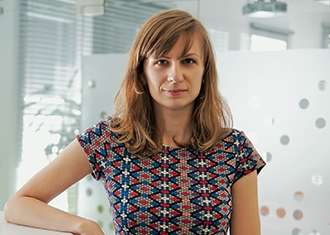 Katarzyna Augustyn-Szurek
Account Manager
Write to me
Designing company materials
One of the most important aspects of brand's existence in the modern world is a proper design of the corporate identity. Logo and the rules of using it are one of those elements that allow the brand to distinguish itself from the competitors. The attractive company is more likely to attract the attention of potential customers. Even after the first encounter, they will be able to know something about it.
It goes without saying that the design process for the brand includes more than just the logo and the brand book. On the one hand, it features the design of company materials such as business cards, stationery or gadgets, but on the other website layouts – simple landing pages and advanced e-commerce platforms. The list goes on and on, for example, the design process includes as well the creation of popular multimedia presentations and static or animated infographics. It is a friendly and convenient form of displaying information about the company, its offer, its accomplishments, future plans or familiar topics.
Our offer
Designing and re-designing logos
Preparation of the Brand Book
Web design
Graphics for Social Media purposes
Creation of static and dynamic visual ads
Graphic designs for company's materials
Graphic ads
Since always, the graphic ad had an influential impact on the recipient. Visually attractive content would attract its attention and persuade to interact with the brand. Nowadays, graphic ads are particularly meaningful as they distinguish themselves from other competitive communication.
The current reality is full of commercial messages and information overload. Consumers become more and more resistant to ads and select only those they find appealing and beneficial. That is why ad design requires particular skills and knowledge that our creative teams have. Our creative teams possess particular skills and knowledge required in ad design.
Nowadays, the visual communication trend is dominating globally. Photos, infographics and videos are the most common and popular form. It is especially visible on social media where they trigger the most interaction and engage recipients. We know how important it is for brands to effectively use modern media. That is why we provide our clients with complex services that combine the creation of content and graphics on the highest level.